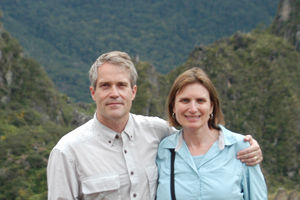 Kip Hodges

BS – University of North Carolina; PhD – Massachusetts Institute of Technology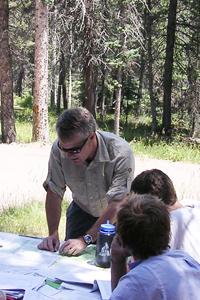 After 23 years on the faculty at MIT, Kip Hodges (shown at left with his beautiful wife Larky) moved to Arizona State University in July 2006 to become the Founding Director of the School of Earth and Space Exploration. An author of well over 100 papers in professional journals, Kip has done field research in the Arctic (both in Norway and Greenland), western North America, the Peruvian Andes, and especially the Himalayan-Tibetan orogenic system of India, Nepal, and Tibet. Laboratory projects include the development of new laser analytical techniques for noble gas isotope geochemistry and the application of these and more traditional methods of 40Ar/39Ar and (U-Th)/He geochronology to problems in continental tectonics and Solar System evolution. Recently, he has worked to design protocols and astronaut training programs for planetary field geology in conjunction with NASA's rekindling of its program of human exploration of the Moon and, eventually, Mars. A Fellow of the Geological Society of America, Kip has been Editor-in- Chief of the AGU journal Tectonics since 2004 and serves on the Planetary Science Subcommittee of the NASA Advisory Council.
Download Hodges CV
Research Scientists

Matthijs van Soest


PhD – Vrije Universiteit, Amsterdam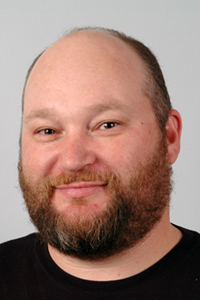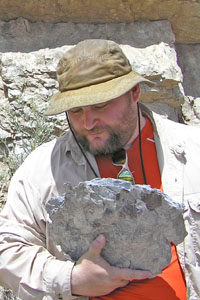 After completing his undergraduate and graduate degrees in Isotope Geochemistry at the Vrije Universiteit Amsterdam in the Netherlands, Thijs van Soest spent 7 years working in the noble gas laboratory of the Center for Isotope Geochemistry at Lawrence Berkeley National Laboratory in Berkeley, California. He has extensive laboratory and field experience with a focus on the use of noble gas isotope and abundance variations as tracers of geologic processes. Field areas where he has worked include: the Troodos ophiolite on Cyprus, the Lesser Antilles subduction zone (Eastern Caribbean), the Basin and Range (including such areas as Long Valley Caldera), Yellowstone, the Idaho Batholith and Snake River plain, and the Cascades. In the laboratory (at LBNL) his focus has been on the development of a high-precision, noble gas abundance analysis system and the application of (U-Th)/He dating to olivines, so the method can be expanded to such hard to date rocks as young basalts. He is eager to establish this method at SESE and expand it further towards other U- and Th-poor materials.
Download van Soest CV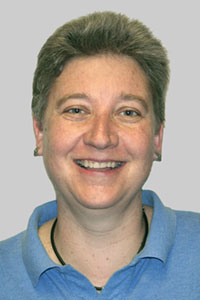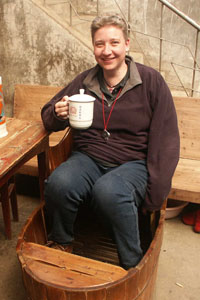 Jo-Anne Wartho

BS – City of London Polytechnic; PhD – University of Leeds
Jo Wartho moved to Arizona State University in 2006 after 6 years of managing a 40Ar/39Ar dating laboratory at Curtin University in Western Australia, and 6 years at the Open University constructing and applying the pioneering ultra-violet laser in situ 40Ar/39Ar dating technique. Research projects have involved the application of this technique to determine argon diffusion and solubility parameters of feldspars and feldspathoids and the partitioning of nobles gases between minerals and melts, for use in resolving the timing and rates of geological processes. She has been fortunate enough to work with a number of gifted researchers on a diverse series of projects, including: 40Ar/39Ar dating of white mica grains extracted from the intestinal contents of the world's oldest mummy, the 5,200 year old Alpine Iceman discovered in the European Alps, to establish the origins of this individual; Rodinia supercontinent reconstruction involving 40Ar/39Ar dating studies in South China; determining ascent rates of kimberlite pipes via 40Ar/39Ar dating of preserved argon diffusion profiles in phlogopite micas from South Africa, Australia, Russia and the Solomon Islands; and 40Ar/39Ar dating of a variety of geological processes in Chile, Brazil, USA, Canada, Ireland, Scotland, Mozambique, Mauritania, Australia, New Zealand, Java, Russia, China, Pakistan, and Saudi Arabia.
Download Wartho CV
Postdoctoral Researchers
Frances Cooper

MSci – University College London; PhD – University of Southern California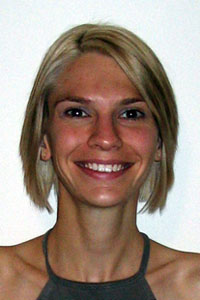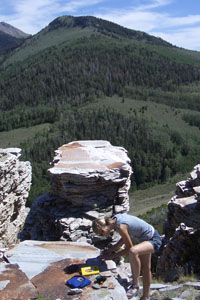 Frances Cooper joined the team in Fall 2008 after completing her PhD thesis work on the northern Snake Range décollement, eastern Nevada, under the supervision of John Platt. Prior to that, her MSci thesis research was on neotectonics in the Gulf of Corinth. Her research focus thus far has been on the mechanical processes behind large-scale crustal deformation, most recently continental extension. At ASU, Frances hopes to expand her research repertoire to include low-temperature thermochronometry and the direct dating of deformational fabrics in the Snake Range and in Bhutan using the 40Ar/39Ar laser microprobe.
Download Cooper CV










Brian Monteleone

BS – The College of Wooster; PhD – Syracuse University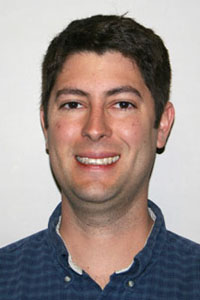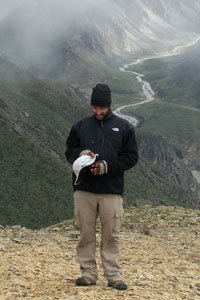 Brian Monteleone joined the research group at ASU in October 2006 after receiving his PhD from Syracuse University. His graduate work focused on U-Pb geochronology, 40Ar/39Ar thermochronology, and petrology of rocks the Woodlark Basin and D'Entrecasteaux Island Island metamorphic core complexes of southeastern Papua, New Guinea. Brian began his scientific career in 1998 as a shipboard scientist on Ocean Drilling Program Leg 180. Post-cruise work focused on 40Ar/39Ar and U-Pb age of rocks from the footwall of a seismically active low-angle normal fault within the Woodlark Basin. His PhD at Syracuse focused on the timing and conditions of high- and ultrahigh-pressure metamorphism, and the timing and rates of exhumation of eclogites and blueschists within the D'Entrecasteaux Island metamorphic core complexes. His postdoctoral work at ASU has focused on the development of in situ (U-Th)/He dating techniques, and on the thermochronology of ultrahigh-pressure rocks from the Tso Morari metamorphic culmination in the Ladakh Himalaya of northwestern India.
Download Monteleone CV

Graduate Students

Byron Adams

BS – Ball State University; MS – University of Cincinnati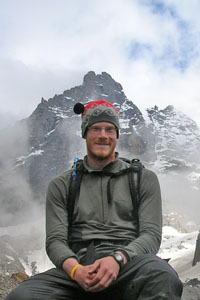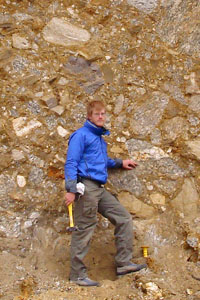 Byron joined the ASU School of Earth and Space exploration in June of 2007 to start his PhD research with Kip Hodges and Kelin Whipple. His primary project focuses on utilizing thermochronology, cosmogenic radionuclide dating and structural and geomorphological mapping to study the tectonic history and geomorphology of the Bhutanese Himalaya. Before moving out west he completed his B.S. in Geology from Ball State University in Indiana and his M.S. in Geology from the University of Cincinnati in Ohio. While at Cincinnati, Byron worked in the Lahul Himalaya of northern India investigating exhumation and river incision rates with Drs. Craig Dietsch and Lewis Owen. Byron also has interests in planetary geology and bio-geo-chemistry. In February 2008, he joined the NASA Field Exploration Analysis Team (FEAT) where he, his advisors and other geoscientists trained NASA engineers and astronauts in field geology. His secondary project focuses on the chemical controls on biological regimes in the hotsprings of Yellowstone National Park, Wyoming; specifically the transition from chemosynthetic to photosynthetic biomes.
Download Adams CV



Jeni McDermott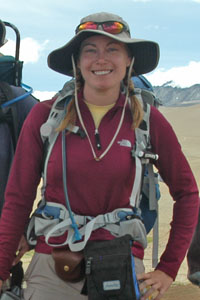 BS – California State Polytechnic University; MS – University of California at Santa Barbara
Jeni McDermott completed her BA in Behavioral Sciences at the California State Polytechnic University, Pomona in June 2002 and moved to the California State University, Monterey Bay in January, 2003 to pursue her interest in geology. While there, she worked with Dr. Douglas Smith, monitoring active geomorphic features such as gullies and landslides as well as completing a paired watershed comparison and establishing annual sediment budgets for impaired streams. In June, 2006, she completed her MS degree at the University of California, Santa Barbara with Dr. Jordan Clark. For her thesis, she used multiple tracers to examine ground water travel times at an artificial recharge facility. Jeni began her PhD work with Kip in August, 2006. Her thesis focuses on the nature of the southern margin of the Tibetan Plateau. Specifically, she uses low-temperature thermochronology and process geomorphology to constrain the evolution of Miocene-Recent normal fault systems in and around the Ama Drime Range.


Alka Tripathy


BS – University of Texas at Austin; MS – University of Texas at Austin

Alka Tripathy moved to Arizona State University in August of 2006 to begin her PhD with Kip, using field methods and laboratory techniques – including 40Ar/39Ar and (U-Th)/He – to better understand orogenic processes. Her focus is the depositional history of the Indus Group in Ladakh, India, with an eye toward developing better constraints on the timing of India-Eurasia collision and post-collisional erosional unroofing of the Ladakh batholith. Prior to arriving at ASU, Alka completed her BS with honors in 2003; her thesis on the detrital zircon geochronology of the Jurassic Navajo Sandstone garnered her Special Honors in geological sciences and led to her being named a Dean's Honored Graduate. She remained at Texas for her MS, working with Dr. Mark Cloos in the Franciscan of central California. The goal of that project was to use new and little-used techniques in a previously well-studied area — specifically, detrital zircon geochronology by LA-ICP-MS and structural petrology – to elucidate the provenance of Franciscan rocks.
Download Tripathy CV
.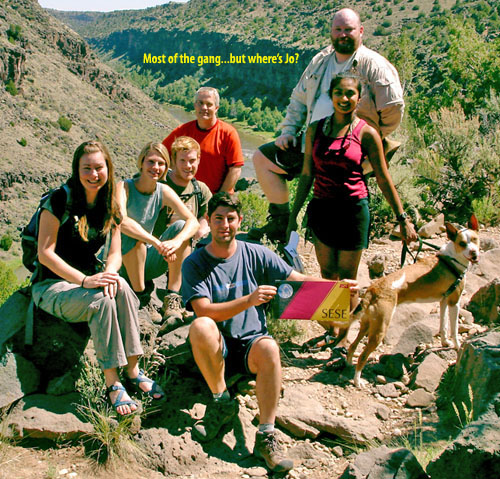 Former Teammates

Here's to former students, post-docs, and research associates who have moved on but but are fondly remembered! When known, current positions and links are listed. Keep in touch, will ya?

Dave Applegate Senior Science Advisor for Earthquakes and Natural Hazards, US Geological Survey
Jeremy Boyce Research Associate, UCLA
Ryan Clark Arizona Geological Survey [Link]
Meg Coleman Faculty, Southern Maine Community College [Link]
Ellen Dotson
Anke Friedrich Professor, Ludwig-Maximillians-Universität München [Link]
Matt Harding
Martha House Instructor, Pasadena City College; Visitor in Geology, Caltech [Link]
Mary Hubbard Dean, College of Science, Utah State University [Link]
Audrey Huerta Assistant Professor, Central Washington University [Link]
Kate Huntington Assistant Professor, University of Washington [Link]
José Hurtado Professor, University of Texas at El Paso [Link]
Jim Knapp Professor, University of South Carolina [Link]
Allison Macfarlane Associate Professor, George Mason University; Associate, Belfer Center for Science and International Affairs, Harvard University [Link]
Larry McKenna
Carolyn Ruppel Research Geophysicist, US Geological Survey, Woods Hole Science Center [Link]
Sarah Saltzer Consultant, Corporate Strategic Planning, Chevron Corporation
Beverly Saylor Associate Professor, Case Western Reserve University [Link]
Taylor Schildgen Postdoctoral Associate, Universität Potsdam [Link]
David Silverberg Founding Executive Director, Environmental Learning Institute [Link]
Joann Stock Professor, Caltech [Link]
Peldon Tshering Senior Environmental Officer, National Environment Commission, Royal Government of Bhutan
Karen Viskupic Research Faculty, Boise State University [Link]
Arthur White Associate Portfolio Manager, MIO Partners
Cam Wobus Research Scientist, University of Colorado [Link]